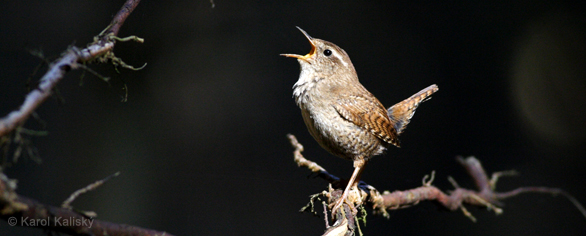 The Primeval Forest Is Singing
Poznávacie exkurzie za tajomstvami jedinečných druhov vtákov karpatských pralesov v Poloninách s odborným lektorom.
Zažite symfóniu pralesa v podaní lesného vtáčieho zboru. Jeho najlepšie spevácke vystúpenie sa dá zažiť iba v skutočnom lese, pretože nie je les ako les a iba v skorých ranných alebo podvečerných hodinách, kedy je intenzita spevu vysoká. Spoznajte tajomstvá a zaujímavosti z vtáčieho sveta. Dozviete sa napríklad, prečo ďateľ nedostane otras mozgu aj keď ďobe do stromov celý deň alebo prečo si sova nevykrúti hlavu aj keď ju dokáže otočiť o 270 stupňov. Zažijete tiež jedinečný les, akých ostalo na Slovensku už len pol percenta.
Vybrať si môžete dopoludňajšiu exkurziu, ktorú začíname veľmi skoro ráno alebo popoludňajšiu, ktorú končíme neskoro večer. Najlepšie podmienky pre spoznávanie vtáčích druhov podľa ich zvukových prejavov sú totiž v skorých ranných alebo podvečerných hodinách.
Vzdelávaciu exkurziu Prales spieva realizujeme iba v mesiaci jún, júl a august.
Malá ukážka z exkurzie v relácii Slovensko v obrazoch a fotky z reportáže v SME.
Ďalšie zážitky – cyklistika v Poloninách + požičovňa ebajkov.
Ubytovanie a stravovanie hľadajte na regionpoloniny.sk.

Ďalšia exkurzia: Po vlčích stopách, Krajinou Vlčích hôr, Prales v noci nespí
A half-day excursion to the mysteries of unique bird species of the old-growth forests in Poloniny with an expert lecturer.
Experience the symphony of the primeval forest performed by the forest bird choir. Its best singing performance can only be experienced in a real forest because the forests differ a lot; and only in the early morning or evening hours when the intensity of singing is high. Explore the secrets and attractions of the bird world. You will learn, for example, why the woodpecker will not get brain concussion even if he pecks into the trees all day, or why the owl does not crane its head even if it can turn it by 270 degrees.
You can choose a morning excursion that begins early in the morning or an afternoon excursion which ends late in the evening. The best conditions for recognizing the bird species according to their sounds are in the early morning or the early evening hours.
Another excurzion: In the tracks of wolves, Across country of the Wolf Mountains