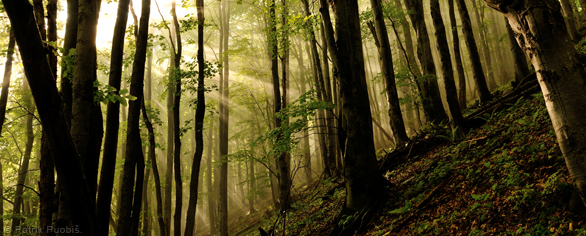 History
Aevis Foundation (formerly known as Green Perspective Foundation) was founded in 1991 as one of the first environmental foundations in the former Czechoslovakia. Its main mission was to support individuals and organizations promoting the ideas of deep ecology with an emphasis on the protection of forests. The main activity of the Foundation was its own active work with spreading the philosophy that highlights the deep roots of ecological threats, through implemented projects to save forests and their biodiversity. Organizing brigade-work, support for seminary work and events, lectures and exhibitions for the public as well as support for multiple smaller conservation projects was an essential part of the Foundation work.
The Foundation also supported a project of alternative bicycle transportation and a book library project donating ecologically oriented publications to libraries in rural areas. Among its most successful activities is a national Forest Protection School of the Year competition and an international Forest Protection Action of the Year competition. The Foundation has received three international awards for its work. Conservation activities in the first two years of existence of the Green Perspective Foundation led to the establishment of Wolf Forest Protection Movement. The Foundation also established the Abies Publishing House and set up the Green Perspective Foundation Library. The Foundation has in its ownership forests in the Strážovské Hills near the village of Valaska Bela. At the same time we are a long time supporter of establishing protected non-intervention areas in the form of buying the forests or their long-term rental with the designation of these forests as nature reserves.
In 2013, the Foundation has undergone significant changes aimed at its further development. Among other things, the name was changed to Aevis Foundation. A long-term vision of creating protected wilderness areas with the support of nature-oriented tourism has been added. On the basis of this vision started Wilderness Restoration, a separate program, through which an ambitious project is realized – Wolf Mountains.
Mária Hudáková, former long-time Green Perspective Foundation trustee