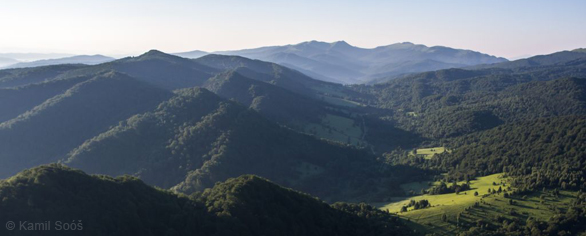 The Wolf Mountains
Under our Wilderness Restoration program we support and realize the Wolf Mountains project. Its aim is to create a functional long-term and a fair and society-wide protection of wild nature on large areas in the Wolf Mountains. This unique area has tremendous potential to be a protected area without human intervention, which would give space to wild nature to express itself in its richness and beauty. And thanks to this, it can become a great attraction for people, who have nowadays often a distorted perception about wilderness. A reasonable alliance of the high value of such an area with ecotourism can help not only to stabilize the economic and social conditions in the region, but ultimately it will help wild nature, whose value will suddenly be measurable and even more appreciated.
In cooperation with our partners we want to create a large area, in which wilderness will have its own living space. An area, in which nature conservancy will be closely linked with the support of the local economy and local residents. It is not our aim to create wilderness areas without people, but rather for people. We believe that a proper protection of nature, coupled with professional promotion of the region and a responsible development of entrepreneurial activities in the field of nature tourism, can create more employment opportunities and better prospects for the future. And for the general public it will show wild nature in a new, unconventional, but the more fascinating light.
We believe that in the next ten years the Eastern Carpathians can be known throughout Europe as an attractive destination for people who want to spend time in the wilderness. We are convinced that this path can be beneficial to people and nature. An important prerequisite for this is a nondestructive use of land with significant restrictons on logging and hunting in areas set aside for wilderness. In the rest of the area there needs to be a calm approach with urbanisation and construction in order to preserve the landscape. Bearing these limitations in land use in mind our Foundation wants to support mainly the development of natural tourism in order to create an alternative source of income in the region. It also plans to establish a mechanism for direct compensation for restrictions due to increased protection of wild nature.
This ambitious project requires a major commitment, a long-term effort and extensive cooperation. Stepwise through pilot projects we want to show that this model can work and be sustainable. Help us and become a partner or supporter of this project. Together we can bring back Wolf Mountains to prosperity and Europe to its wild nature!