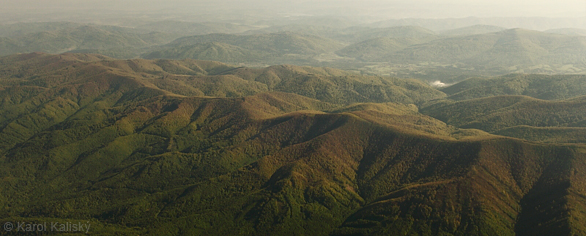 Locality
One of the most preserved European ecosystems is situated in the Eastern Carpathians at the boundary of three states: Poland, Slovakia and Ukraine. This area used to be called Wolf Mountains and today it is the kingdom of wild animals again.
Dramatic events after the Second World War on the Polish side of the Wolf Mountains and the construction of the drinking water reservoir on the Slovak side made this area one of the least populated ones of the whole Europe. Only about 5 inhabitants per square kilometre live here and there are several protected areas here. Human tragedies which took place here cannot be undone today. However, we have to look forward and seek opportunities this area offers today. Unrestrained nature, ancient forests and wild animals are becoming an increasingly sought after article. Wolf packs, bears, wisents, beavers or rare bird species may attract tourists from all over the world.
Thanks to the cooperation of the three states a large area has arisen here, a kingdom of wild nature, which has the chance to become the largest European wilderness area. All it takes is increasing the protection level by each of the three countries in the already existing protection areas.  In such a way a unique area would be created, in which nature tourism could be the main source of income for the local inhabitants. Wild nature, which used to be a symbol of backwardness of regions, would thus become an opportunity for their development.